Olaf sure has a lot of costumes!
This seems like a good quote for Olaf!
It does. Wait… is Albert Camus OLAF?! Nani!
Summer break is done! Olaf is sad. But that means winter is almost here! Time to make snowmen!
It's National Tell a Joke Day!
Here's one: Olaf isn't one of the best snowman ever!
Jk! He is! I want to give him a warm hug!
Does he have to slay the dragon? He'll melt from the fire!
@TherMasterStitch, melt, you say?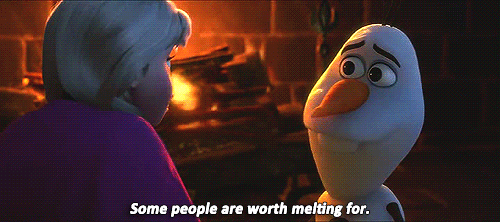 "Except just not right now"
I just realized the song from Mulan "A Girl Worth Fighting For" could be turned into a parody with this. "Someone Worth Melting For" by Olaf.
wait…did I just give myself a new parody assignment…
Who's excited for frozen 2?
Well not much is known. The first trailer told us nothing and the second trailer tells us that the movie is focused on Elsa's powers
I haven't seen the trailer but I can't wait
I love Frozen! I just hope they don't follow the trend with their recent sequels…
Please, is a happy ending too much to ask for?!
Well Frozen 2 seems to be darker than the first one so I'm excited.
I hope Frozen 2 will also showcase Olaf's singing prowess. His vibrato and ending notes are great!
I can't wait for more catchy songs